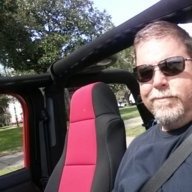 Joined

May 25, 2018
Messages

149
Location
Okay, here's a question about the Super35 kits, coming at it from a slightly different direction. We've all no doubt seen (and perhaps been a part of) discussions on the merits of different axle configurations, particularly the meek Dana 35. However, the question I want to ask here is really specific to the 35, and doesn't even attempt to compare or contrast to any other axle. I don't want this to devolve into a religious-level debate on which axle is better. I know basics, pros and cons of the Ford 8.8 and Dana 44 & 60, and even the 30 and 35 to a certain extent. However, I'm not sure that I'm completely clear on the Super35 kit. As they say, information is power, and I'm trying to collect a bit of it as I evaluate different solutions based off of my own needs, use cases and economics. There's as many different styles of rigs out there as there are drivers, just about, so as a spoiled celebrity millionaire princess might say, it's all about me. For now, anyway.

So here's what summarizes what I know, or at least what I think I know. The Super35 kit originated with Superior Axle, I believe the name was, but now, various different manufacturers make their own version of it. The one thing they all aim to have in common is that they strengthen up the traditionally weak components of a factory Dana 35. As I understand it, this includes the axle shafts themselves, usually some kind of locking carrier, and in some cases, spider gears. Many will also use the opportunity to switch out the ring and pinion gears while the unit is opened up.

The pipes that the axle shafts pass through are generally the same construction as a Dana 44, but I don't know about the pumpkin itself. I've also been told that, although it's nowhere near a substitute for a truss or other similar reinforcement, that a heavier duty differential cover can also strengthen up the differential to an extent, or at least prevent a small amount of flexing.

Now, keep in mind, I've been a Jeep owner for all of the past 12 months (I'm almost 50 now), but I've never been shy about working on my own vehicles, so the last year has been a constant learning experience, using the insides of my Jeep as my classroom (with much thanks to you folks here and various YouTube channels who have been indispensable for advice and instruction). I've no doubt done some things wrong, but I'm pretty sure I've also done one or two things right, and still other things that might have the average Jeep owner scratching their head a little. This leads me to some starting points for questions.

How much of what I described above regarding the Super35 is accurate, how much have I completely misunderstood, and how much am I still missing. Are the subtleties that I'm not grasping yet that I need to?

Keep in mind, this post is all about the Super35, what it consists of, what it's not, and what goes with it. Any discussion of other axles will begin when I've soaked in enough here and am ready to move on to the next subject.