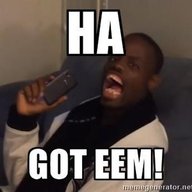 Joined

Jul 19, 2019
Messages

468
Location
I need a little help and a few ideas to add a step to my factory rocker guards and eliminate these massive ugly nerf bars. Current setup is pictured below.
First of all, I want to fabricate them myself (not to save money, but because I like fabricating) so buying is out of the question. I have pipe, plate, square tubing, Tig and stick welder on hand, but the largest square tubing I have is 2x2. I have been doing some brainstorming and I have come up with the following options in order of preference for the time being:
Option 1- fabricate a rail out of 3/4" or 1" pipe that angles up slightly, like the commercial brand sliders with rails, and weld it to the factory Rubicon rocker guards. My concern here is whether the factory rocker guard fasteners will support the weight. Adding braces, backup plates or additional fastening here would not be a deal breaker
Option 2- use tubing and some plate to make a rail flat at the top and angled on the bottom sort of like the mini boat style sliders (but not with the full protection of the pre fabbed offerings, this is more for looks.) Concerns: Attaching with as little additional drilling to the tub as necessary. Possibly mounted in the same manner as the Nerf bars are on there now, but with more clearance and with more than 2 anchor points. The Nerf bars are bolted to the bottom of the factory rocker guards but not drilled through the tub. I was thinking I could add clearance by using 2x2 tubing instead of the 3" pipe and mount the tubing as far up on the mounts as possible.
Option 3- Fabricate complete sliders from scratch. My only concern here is that it would take longer and I don't have quite enough plate on hand, and I was trying not to have to buy additional material and avoid the hassle of designing the entire slider and rail system when all I really want is a descent step for the wife and kids that doesn't reduce ground clearance by 4".
I live in South Louisiana so no rock climbing in the near future and I don't really need the protection of a full blown slider on this rig at the moment. I also want the step to be permanent, so I'm ruling out removable steps and those pull out straps for now.
More information on my jeep, along with a custom interior mount I just finished up on, is
here
.
I have worked in steel fabrication for 20 years and I have already designed and built a double door, vertical reverse flow insulated smoker along with building the trailer it sits on (among other things,) so simplicity of design here is not really Paramount, although I don't have a CNC plasma machine.... yet. Thanks in advance and any pictures of diy steps and sliders are welcome.
Last edited: