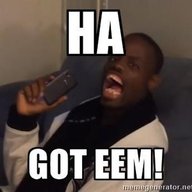 Joined

Jul 19, 2019
Messages

500
Location
After completing my clone of the Dropkick slyders a few weeks ago
(link here)
, I have decided to build some tube doors for the jeep. I will document the build here as my way of giving back, as this forum has saved me on quite a few occasions.
First off, I call these "low dough" builds because they are generally built from scrap, repurposed or left over materials from other projects. My material budget is usually $0, and I use pretty simple tools. The builds usually take longer than a normal project where I would build a material list and borrow or barter for complex equipment use, but I do these builds strictly for fun and the challenge of spending as little dough as possible, yet having a quality, well engineered end product.
This project: Tube Doors similar on shape to Jeep half doors
Budget: $40 (I'm running low on consumables like grinding discs and spray paint)
Material: Old trailer that I pulled out the swamp in exchange for some work I did on an old man's shop door
For this to be considered a low dough build, buying hinges at $70 per pair is out of the question. I have heard of some using inexpensive gate latches, but thats just as wrong as making the doors out of wood, so today as a proof of concept, I had to make sure my diy hinge idea would work so I made a template of the door I had in mind and made a few doodles of how I thought the hinges would go. The criteria are that the hinges had to latch without assistance when the door is swung shut and have to be easily reached to unlatch and open the door from outside the jeep
Then I grabbed the band saw and went to work on some 1/8" plate. I drilled a hole where I planned for the striker to catch the door pin.
Then I went to cutting
I tacked a few thin pieces of plates to guide the hook as it moves up and down in the assembly.
Trimmed the excess plate and tested the latch out before tacking the cover plate on to close the assembly up.
With my concept proved, I needed to acquire some springs to keep the latch tight so they won't rattle. I found this in the corner where I keep crap piled up that I just can't let go
Then the South Louisiana mosquitoes came out. For those of you that don't know, those bastards are so big, they will drag you off into the swamp and beat your ass for fun. I think I proved my concept enough to start on the doors, so I called it a night. I'll hit a little bit in the morning before