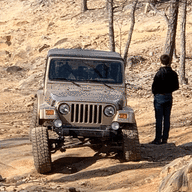 Acquiring Jeep funds...
Supporting Member
Joined

Feb 25, 2021
Messages

1,444
Location
So my brother bought a 1996 Jeep Cherokee 2 door 4x4, really neat little car, he got it for what we thought was a good price, but it turns out it has a lot of rust on the under body, some spots we were even able to stick a screwdriver through, so I attached a few pics to get some feedback.
Is it worth attempting to fix/get it fixed? or should he sell it and go for something less risky?
This is right above the exhaust pipe
This is a piece of metal the PO welded on to hold the brake cable
This is along the driver side uni-frame(?)