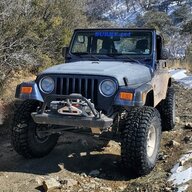 Beefy! I Loves Me Some Arizona.
Supporting Member
Joined

Mar 15, 2020
Messages

4,261
years of truck driving/towing experience + physics + many prior threads on this forum + the internet.

Question, you lose one of those two straps, what now keeps the vehicle from moving forward? not the other strap... if anything the other strap will just pull the vehicle sideways as the vehicle moves forward, not a good idea.

Hell even bleeping jeep knows better...
Add a 5th strap pulling straight back acting as a brake.