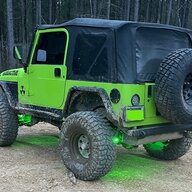 TJ Enthusiast
Supporting Member
Joined

Oct 27, 2020
Messages

575
Location
If there be enemies here they will be simple children.

You have never seen a healthy, properly cared for strap break from simple attachment. Anything you are describing is nothing more than user abused and neglected equipment. You obviously have no idea of the forces/impact it would take to cause the failure of one of these straps.

Again with the childish name calling...from those who formulate a plan of action based on a "3 strap" theory lol.

Ask yourself why is it the quoted attacks and insults magically disappeared from the thread.
I don't know if you watched the bleepin jeep video but he shows a good example of one strap breaking and the effects of that happened with an extreme scenario of the trailer on it's side. I understand your position that the straps won't normally break and it's probably very rare. However, all you need is slack on one of the four straps and effectively the vehicle isn't secured. All 4 straps rely on the tension of all the other straps to work effectively when you cross strap it. On a straight strapped vehicle you can lose one strap (or the tension of one strap) and the vehicle is still secured.