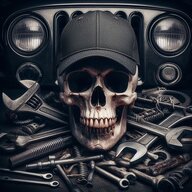 Moab June 11-16th 2023
Supporting Member
Ride of the Month Winner
Joined

Jan 17, 2020
Messages

29,639
Location
Your point does not really address the topic, but I will agree for the most part. One thing that is not going to happen is a broken strap in stop and go traffic no matter what speed you are traveling...never happened and not going to. You may experience a little slack from time to time, but that does not mean you are unsafe. A lot of slack means you have done something wrong. If a strap comes off for any reason that is on you, not the strap...open hooks are just an invitation.

"Plan for the worst; hope for the best".... why not then use a strap method that covers more scenarios?
One of the guys at TJFest two years ago had a hook detach from one of their fairly new name brand ratchets.