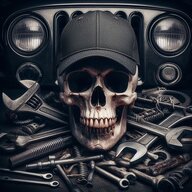 Moab June 11-16th 2023
Supporting Member
Ride of the Month Winner
Joined

Jan 17, 2020
Messages

29,639
Location
That makes no sense whatsoever. I believe the user but still, something bizarre is going on. The edge of the hook show it was basically ripped fully across the weld in the HAZ on both sides. For a straight pull to do that, something is whacked. Fortunately, we don't see that often, in fact, this is the only time I've ever seen anyone post up failed hardware. Just very strange.
Yeah, just goes to show things do happen.
This is why you want to reduce dependency on other straps as much as possible.
If that happens in some instances described in this thread, less than ideal results will follow.