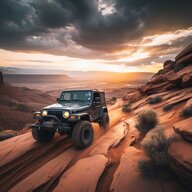 Rust Belt Heavyweight
Supporting Member
I'm having trouble starting my jeep, well, its been since I bought it. My suspicion has always been the fuel pump. I'm a cheap-skate though so I tried replacing the Filter thing at the top, because I heard that it was the anti-siphon valve. That didn't work so I've just been dealing with it. Lately however, its getting harder to start and its been running pretty rough when cold. I figured I had better deal with it.
First off...Whatever bean-counter at Chrysler decided to get rid of the Schrader Valve...eff you. I hope the $0.30 off each Fuel rail was worth it. I'm not bitter...
So...How did I do it?
I started with a Fuel Pressure Gage Kit from Harbor Freight. 20 bucks, and it included that nifty "tee" fitting that makes the whole thing possible.
Then I bought some QD fittings at the local auto parts store. Dorman stuff in a blister pack...
It actually came with two barbs and two sockets, so I can make another, if I wanted. Finally, I bought 3 feet of fuel line. I got the Fuel Injection Specified stuff...OUCH. 5 bucks a foot! Not sure I needed it, but they wouldn't take it back after it was cut.
Anyway, assemble the "tee" in the middle, press the socket side on one end of your adapter, and clamp appropriately. On the other side (the one with the barb), I cut about a 4" long piece of tubing, and used my flare kit to form a small barb on the cut end. Gave me something to clamp and prevent leaks.
Assemble the barb end to the Factory Socket and snap your new socket to the fuel rail. Viola!
As you can see, I have a MAJOR leakdown problem in my fuel system. As soon as that pump shuts off, the pressure drops, like NOW. New one is on order!