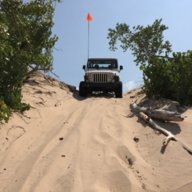 Joined

Dec 6, 2018
Messages

110
Location
New to the forum and thought I would share my floor pan and torque box repair. Just purchased a 97 Jeep Wrangler Sahara with 135k for very cheap to be used as an off road toy. Being that its spent its entire life in Southern Michigan it has been salted to near death. My frame is still solid but rusty, no soft spots however all three body mounts on both torque boxes were completely rusted through as were the floor pans front and rear on both sides. Probably would have been easier to get a new tub however there are some significant headaches with that I had no idea how to tackle, like how to move an entire tub by yourself.
These are the front pan: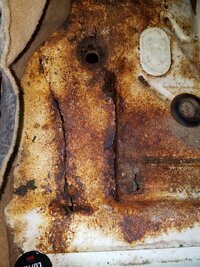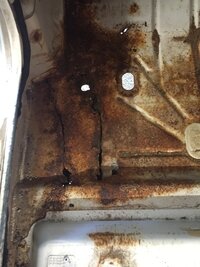 These are the rear pan: (Yes that's the body mount)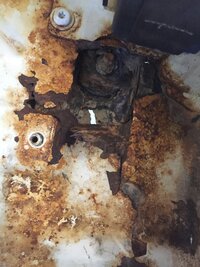 What's left of the drivers torque box: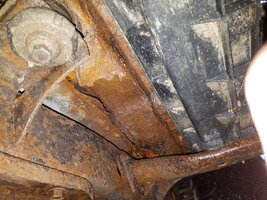 I have only done the drivers side so far but to repair it I cut off everything that was rusted, drilled out all the spot welds and ordered new pans and the torque box from amazon.
Torque box
https://www.amazon.com/gp/product/B01MS4UGFV/?tag=wranglerorg-20
Front Pan
https://www.amazon.com/gp/product/B00ZBBDXC0/?tag=wranglerorg-20
Rear pan: Key parts from Quadratec
No floor:
After removing all the rust I cut my new pans to have a +1" overlap to the holes in the front and rear floor, placed the new pans and sanded all the overlap on the new pans and old floor down to bare metal. I liberally applied 3M body adhesive to the overlap and placed the pans in. Then used 3/16 stainless rivets to attach the pans. Once the pans were in and riveted I smoothed out the push out from the 3m adhesive to seal the seam on the inside and outside. I used an entire bottle for the pans, which was probably a bit excessive but it sealed up nicely and is solid. After letting the pans cure I used the same process with the torque box.
Front pan:
Rear Pan:
Torque box: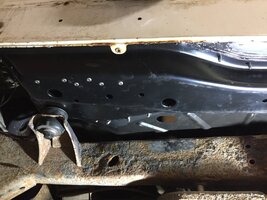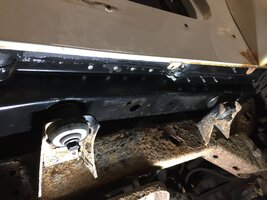 Pop Rivets used:
https://www.amazon.com/gp/product/B00FAUF1SQ/?tag=wranglerorg-20
3m Adhesive and applicator:
https://www.amazon.com/gp/product/B00KSF9TCW/?tag=wranglerorg-20
New body Mounts:
https://www.amazon.com/gp/product/B01C62R1PQ/?tag=wranglerorg-20
I know this is not the traditional repair but being that I don't know how to weld it was the best repair option for me. The combination of the 3M adhesive and rivets on paper should be stronger than the tack welds but I am not going to try and convince anyone. I am not recommending this to anyone just sharing my experience in trying to bring a rust bucket back to life.