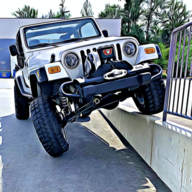 TJ Enthusiast
Supporting Member
Joined

Aug 12, 2018
Messages

526
Location
In preparation to replace my valve cover gasket I had to remove the black plastic bridge that supports the wiring loom. There are lots of posts with some instructions (including just to break it off) but I never came across any good close up pics or detailed instructions. So here you go.
The top of the bridge is held on with 8 clips - 4 on the front side and 4 on the back side. I was able to unclip the top by using a long flat blade screw driver on the front, and a stubby screw driver on the back.
Once the top pops off, my wiring was taped around it on the driver side which I had to cut/peel off.
I was then able to slip the wiring harness over the front of the bridge. I had quite a bit of slack in my wiring so maybe i got lucky.
The bridge is then attached by three fasteners, one 10mm nut on passenger side and two clips that hook on to threaded posts on the drivers side. The nut is easy, I was able to get at it with a straight ratchet.
To get the clips removed, I first used some compressed air to blow out any crud. Then using just my fingers I was able to push the tabs outward while rocking the bridge front to back and putting some upward pressure. I alternated between the two clips.
Here it is ready to be reinstalled.