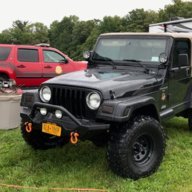 Joined

Mar 12, 2018
Messages

359
Location
This guide will walk you through the steps to replace a leaking rear seal in a 32RH transmission. You will know this is the seal to replace because there is a small hole in the transmission housing on the bottom where it bolts to the transfer case. It leaks out of that hole and fills the skid plate until it finally drips down on the ground. If you see transmission fluid on the ground (red in color) look for this hole and see if it is coming from there. If so, save yourself a trip to the shop and do it yourself with some basic tools.
What you will need:
Socket set
Small flat screwdriver : used to help slide red tab on electric plug
10mm allen wrench : used to remove transfer case drain and filler plug
Seal puller : harbor freight sells them for $10. They work just fine for this
Seal : Duralast 710058 – Automatic Transmission Extension Housing Seal or similar part $8.99
2 Qts ATF 4 to refill transfer case
Jack stands to support transmission while skid plate is removed
Floor jack to remove the skid plat and transfer case
Small pry bar : used to help remove drive shafts and transfer case linkage
Drain pan for transfer case fluid
Small amount of Vaseline : used as an assembly lube so the seal isn't dry against the transfer case shaft
Here are the steps, broken into sections:
1. Remove skid plate
1.1. Chock the tires. You will be removing the driveshafts so it could roll.
1.2. Support transmission bell housing with a jack stand
1.3. Remove four nuts connecting transmission mount to skid plate
1.4. Place jack under skid plate
1.5. Remove 6 bolts attaching skid to frame
1.6. Lower carefully and move out of the way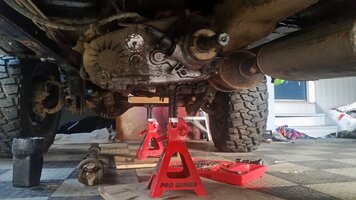 2. Prep transfer case for removal
2.1. Use 10mm to loosen fill plug – nothing worse than draining the fluid and then finding out the filler plug is stuck!
2.2. Place drain pan under transfer case and remove drain plug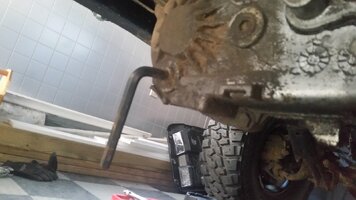 2.3. Remove front and rear driveshafts
2.4. Disconnect transfer case linkage be prying from rubber grommet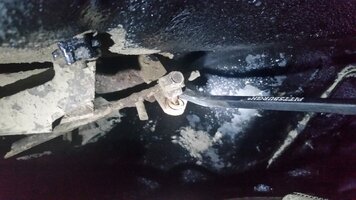 2.5. Disconnect electrical connections – the larger one requires the red tab to be slide completely over to remove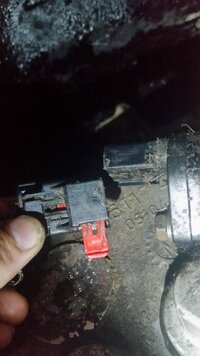 2.6. Remove vent tube on top of transfer case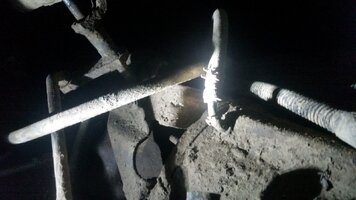 3. Remove transfer case
3.1. Loosen all bolts connecting transfer case to transmission
3.2. Remove all but one bolt connecting transfer case to transmission
3.3. Place floor jack under transfer case for support (good time to have a buddy – it doesn't weight a ton, but safety first)
3.4. Remove final bolt
3.5. Gently rock transfer case while sliding it off the transmission (pull toward the rear of the vehicle)
3.6. Lower transfer case to ground with jack
4. Remove seal from transmission
4.1. Notice the depth of the seal as it is currently installed. Mine was flush with the transmission housing surface. You don't want to put the new seal in any deeper than the old one was. The milled area will allow the seal to be installed deeper into the transmission, which will only cause leaks later.
4.2. Insert seal puller under seal lip being careful not to scrape and score surrounding metal surfaces
4.3. Firmly but using control, pry out the old seal (I had my transmission out for this pic, but it can be done with the transmission still installed)
4.4. Wipe surfaces with a clean cloth to ensure no debris got in there
5. Install new seal
5.1. Lots of ways to do this, the best is to use a seal seating tool that allows you to tap it in equally across the surface of the seal. If you do not have one, you can still do it if you are gentle and take your time. Leave the BFH in your toolbox! The key is to use a series of light taps moving around the perimeter of the seal to slowly seat it in place.
5.2. Once the seal is seated at the same depth as the previous one, apply a small amount of Vaseline to the inner surface of the seal. This will provide lubrication when you slide the transfer case back on. You can just use ATF but it runs off the seal so it isn't as effective for assembly.
6. Reverse the steps!
6.1. Re-attach the transfer case and its electrical connections. Don't forget the vent tube!
6.2. Tighten the drain plug and refill the transfer case. Stop when it comes out of the fill hole.
6.3. Reconnect the transfer case linkage
6.4. Re-attach the drive shafts
6.5. Bolt the skid back up and don't forget the transmission mount to skid plate nuts!
And that's it. All for about $30 including the beer. Admire your work, have a beer and think of all the cool Jeep parts you can now afford by doing this yourself!