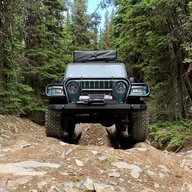 TJ Overlander
Supporting Member
Ride of the Month Winner
Hope that title made sense to someone, but in a nutshell I have recently punctured an inner sidewall while baja-ing through some rocky terrain and have just got the new tire in the mail today.

I'm wondering since I was previously doing a 5 tire rotation, do just put the new tire in the place of the punctured one and continue on as usual?...or since I have the "spare" tire now in the "front passenger" spot, which technically messes up my rotation pattern, should I just mount the "new" tire to the spare location on the back and switch to a 4 tire rotation? or is there a whole other protocol to follow when this sort of thing happens?

The tires are KO2's and they have around or less that 10k miles on them if that makes a difference.

Whats the consensus?