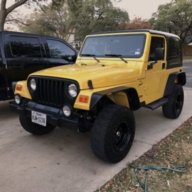 TJ Enthusiast
Supporting Member
Joined

Nov 21, 2018
Messages

317
Location
Howdy! I joined and have been posting for a few weeks now but figured I would drop in here and introduce myself.

My name is Dan as the handle says, but I was not born in '76, actually '85 if you're curious but it's an old handle and 76 is meant for 1776.

So here's my story as short and sweet as I can make it:

I grew up riding my dad and granddad's '58 and '62 CJs around our ranch, granddad even taught me a little how to drive when I was 10. 15 years later I'm on my second boring sedan and end up totaling it. My friend (thankfully) urged me to go check out a YJ down the street from him. I had a lot of good changes in my life recently so I figured I'd try doing the same with vehicles.

I got the YJ and I loved it, even for all it's problems and 2.5L glory or lack thereof (also had to relearn how to drive manual). I sure did learn to love Jeeps though and learned a lot about working on cars. Maybe a year and a half later I found myself in a red 2005 4.0L TJ, once again it was also manual. Not even a year later I regrettably sold it as I was tempted to get a brand new black 2-door 2012 3.6L JK (oh you bet it was manual, too).

I did a lot to that JK (35s and even regeared it) and it was great but I always missed the TJ. A couple of years ago my then-girlfriend's car broke down. I got financing for a new car and we went shopping. What did she want? A JEEP! I was already thinking of marrying her then but that sealed the deal.

So now we were the proud owners of a yellow 2000 4.0L TJ (you guessed it, manual). After getting married I saw the writing on the wall, so of my own volition I sold the JK and got a nice 2015 F150. I was missing having a Jeep as a DD but the truck was nice. After my wife got pregnant I kept offering her to trade whenever she wanted and well, finally, six months in, she decided she wanted to swap.

Well now that we're swapped there's so much I am realizing I need to do to the TJ these days after driving in it day in and day out! I got a long list of things to do, inside and out, suspension and creature comforts, cheap and pricey, but I'll get to it all eventually and with the help of this forum I might just do it right, too!

P.S. If you stuck around and read all that thank you! I just like to type to my heart's content.