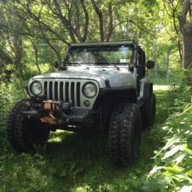 Joined

Nov 26, 2018
Messages

119
Location
4.0L with 99,000 miles on it. The engine is using about 1 quart every 200 miles. I have not done a compression test or leak down test yet, have not had the time to do either at this point.

If the Jeep is parked, there will be no oil on the ground.
When the Jeep is started there is no cloud of smoke from the tailpipe.
When the Jeep is driven, there is no smoke that comes from the tailpipe.
If I put a piece of cardboard under the tailpipe there is condensation that comes out and gets the cardboard wet but it does not appear oily.
At first startup after sitting for hours, there is moisture and some black stuff (soot?) that comes out of the tailpipe but the black quickly goes away after 20-30 seconds.
The oil filler cap has a small amount of oil around it, this was clean and dry when the oil change was done so I know this is not from me missing the hole when filling.
The air filter has a small amount of oil on it from the vent tube but not enough to be where all the oil is going.
Engine coolant level and color does not change.

I have dealt with leaks and the puddles of oil on the floor. I have dealt with burning oil from bad rings or valve seals and the indication from the tailpipe and blue smoke at startup, after idle or during acceleration or deceleration. This Jeep shows no of those signs.

So the question before my testing, where is all my oil going? Is the leak so large that the amount of oil going into the combustion chamber cannot be burned and is just thrown out the tailpipe? Are the exhaust valve seals so bad that it is dumping it into the exhaust and throwing it out the tailpipe?