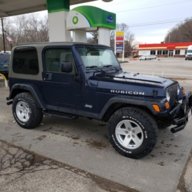 TJ Addict
Supporting Member
Lifetime Supporting Member
Joined

Jan 17, 2018
Messages

1,294
Location
I need to buy some work boots for my new job. Something durable, composite safety toe, not sure if I want waterproof or not (would be nice when snow hits, but probably ugly during this summer), 8", and comfortable.

I have next to no knowledge about work boots other than Rocky or Red Wing. The Gov will reimburse me up to $300 for the purchase, so I'd like to keep it under that. I'm an Oil and Gas well Compliance Inspector (or just Compliance Inspector). So I'll be walking around in rough terrain on and around oil pads.

I greatly appreciate any suggestions you can offer! Thank you!