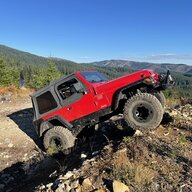 Joined

Jul 25, 2021
Messages

240
Location
I've read a bunch of threads and watched a couple videos about the ignition lock cylinder, actuator mechanism, and ignition switch. I'm not sure where my exact problem is, but here is what's going on.

1997 TJ SE model.

My HVAC fan does not blow at all sometimes, and other times it works fine. Today I discovered if I wiggle the key with the Jeep running, the HVAC fan will suddenly come on or go off. I only have one key for the Jeep and it's very worn. I'm sure it's an original key from it's 1996 production. The Jeep runs fine. It never cuts out when wiggling the key, and the key cannot be removed while in the run position.

What's causing the HVAC fan problem?

Lock cylinder or key too worn?
Actuator pin worn?
Ignition switch faulty?

I'm assuming one of the above parts is the culprit. I mostly understand how those work together, but unsure on whether a worn key and worn lock cylinder tumblers can cause this.

To recap: Jeep starts up every time and runs with no issues. The only thing glitching is the HVAC fan. Wiggle the key while the Jeep is running and the fan starts working/stops working. Nothing else seems to be affected by wiggling the key.

Possibly relevant info: The airbag light intermittently comes on. I don't have a rear defrost. My turn signals work. My wipers work.

Thanks for any help. I should go take the thing apart and look at it later.