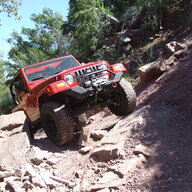 Joined

Jun 21, 2018
Messages

140
Location
The thing is thieves are good at what they do. No alarm is going to keep someone from taking your vehicle if they want it. Aftermarket alarms are all a waste of money. I had an 86 K10 stolen and it had a kill switch that I thought was completely hidden. My ex wife had our Durango stolen even with the factory passive anti theft armed.

I work in the auto industry and have been able to bypass any factory alarm on cars that came in on the hook. A new corvette, an A6 Audi, Nissan 300zx, and many more. With a little knowledge no alarm will keep you from starting and driving off in any vehicle. If you have a professional scan tool all you have to do is get the door open and I haven't found a car yet that I can't get open in less than 5 minutes. In Arizona car thieves are very good at what they do. A few years ago there were even thieves getting VIN numbers and going to the dealer to get new keys made, and got them. My K10 was never recovered. The Durango was recovered but totaled. The detective said it had 32 illegal immigrants in it when they finally caught them after a high speed, across the desert chase. All the seats were pulled and it was packed like a sardine can. The suspension was barely hanging. Down here they love vehicles that can cross the desert and hold a lot of people. It's a serious problem. Almost everyone I know has had a car or two stolen. A guy I work with had his new F-350 taken in broad daylight. They caught the guy filling it up with fuel and it already had the seats out and packed with bottled water.

I remember back in the 90's when Alpine alarms were popular. The local mockingbirds would copy the sound. Used to crack me up. Like Jerry said. If they really want it they'll just pull it up onto the tow truck.