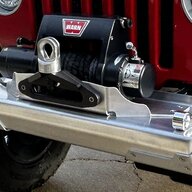 The Jeep Guy
Supporting Member
Ride of the Month Winner
Joined

Feb 27, 2017
Messages

9,739
Location
I find documentaries to be my favorites. This one may not actually be considered a documentary, per se, but will surely be a fascinating film to watch.

I watch a lot of documentaries on WWII. I will admit that the entire Nazi Germany things fascinates me in many ways. What drives a man (Hitler) to such hatred? How could an entire nation follow that ideology? How can human beings, in general, treat each other the way they did? I watch with a morbid fascination, and try to get a sense of some of the possible answers.

As you stated, WWI is a whole 'nuther thing. What little I have read or watched regarding it is equally fascinating, and I can see myself looking into it more.
Did you ever read Nazi Oaks? By Mark Musser? He's from your area. He documents a green movement in Germany that fascinatingly lead to the Holocaust as an oft missed major contribution to Nazi ideology