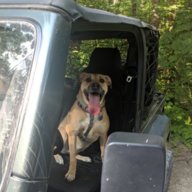 TJ Enthusiast
Supporting Member
Got the TJ back in February, it's a manual, 130k miles, mostly clean frame considering it's lived in Ohio and Indiana it's whole life (minor surface rust but no rot).... Overall in pretty good shape. Boxes have been piling up so figured it was time to get one of these going to document the build!
Purchased so far:
2" OME HD kit
JKS 1.25 BL
Brown Dog Rubber 1" MML
JKS Front and Rear adjustable track bars
JKS adjustable rear end links
Rubicon Express 2" front and rear bump stops
Basically following DPGs ultimate package but didn't go through him, I was going back and forth on running 32s vs. 33s, (buying parts as I was reading everyone's comments) but knew eventually I'd want to replace the transfer case skid which includes a body lift so didn't want to outgrow tires early on.
With that, the crack happens now and I'll run 285/75r16s on the stock Moabs. I love those wheels on the TJ. Still debating on the tred but will likely be a MT or some type of hybrid.
Here's a pic from the day I bought the jeep. I'll post more pics of small projects to catch up to present day.
Sent from my Pixel 2 using Tapatalk