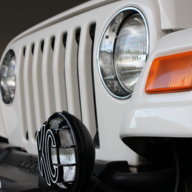 TJ Expert
Supporting Member
Joined

Jun 19, 2017
Messages

5,295
Location
It does. The same reason it increases body roll is the same reason the suspension is more compliant. Less bind in the arms and track bar. This is an argument for the 3 link rear. Otherwise, all you can do is tune out the added roll with shocks and sway bars.

This isn't specifically because of the mid arm configuration. It is a phenomena of a 3 link or 4 link.
This. And this is where actual high end shocks that are able to be tuned come into play. Bolt ons are going to compliment the suspension mods as well as something you can tune.