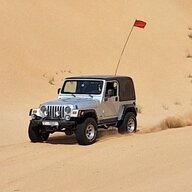 New Member
Supporting Member
Joined

Apr 24, 2023
Messages

18
Location
Hi all, seen another TJ as the search for a decent jeep goes on… This one is 2006 manual with approx 70k miles. Need to verify the miles. The car was sitting for a few months hence the dust.
What's your take on rust? Didn't feel any flakes and felt smooth inside the frame rails.
The front driveshaft has been replaced, not sure on the brand and the exact reason but also know that the front axle pinion and ring had to be replaced. The rear driveshaft is missing??
The garage would fix mechanical issues with the car prior to the sale.
Right now wanted to hear your opinions on the frame and this driveshaft situation. And anything else you might spot.
Thanks in advance
Last edited: