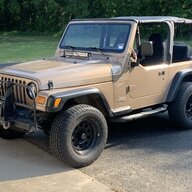 TJ Enthusiast
Supporting Member
Joined

Mar 31, 2023
Messages

138
Location
My 1st Jeep was a '91 YJ 2.5 that I had for a few years back 2005-2009. I knew nothing about Jeeps except I thought there were cool. I bought it for $3k and kept it simple and pretty much cleaned it up and did a lot of little things to it that kept me busy but nothing over a couple hundred $$.
I stayed on the forums and got "the fever" for more. I then purchased a 2005 LJ with only 13k miles on it. It didn't need anything done to it (already had 3" lift and 33's) and I kinda got bored with it. I didn't have the same bond with it as the YJ, but I liked the coil springs better than the leaf springs on the YJ. Traded it for a crew cab Z-71 10 years ago knowing that I would get another Jeep when the kids started leaving the nest.
Fast forward to a couple of months ago and I got the Jeep fever. I started looking and was drawn to the TJ 2.5's again and got a 2000 SE. I could probably afford whatever I wanted but for some reason I liked the simplicity of the 2.5. I know what to expect of it and what it will do.
I enjoy the small projects and plan on keeping it simple again…like no lockers, SYE, re-gearing, no larger axles etc. I run the back roads and pastures and threw the top away because it will only be my weekend toy. I have already spent countless hours "tinkering" with it (my wife named it Jolene because she feels like it is trying to steal her man away), so my dedication it there but am I the only one that likes my TJ simple?