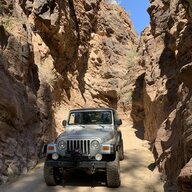 Just a "Web Wheeler"
Supporting Member
Joined

Mar 25, 2018
Messages

548
Location
So my '03 GMC D-max rocker panels rotted away here in the salt bath. Since you cant buy a non EPA butchered diesel anymore I decide to have a body shop here replace the rockers and cab corners.
$2400 quote to do it. Have the truck for a week.
Truck is finished 3 weeks later, I pay $2898. (so damn near $500 more) While they had it I had them install the nerf bar steps ($100) and the remainder was for inner rockers replacement. The bed had to come off to perform the work.

Here's what I found so far:
Strike 1. Bed is bolted down 1/8" back away from the cab.....I have a B&W turnover hitch that no longer lines up.
Strike 2. They used a cut off wheel to take off the u bolts for the B&W inside the bed. Leaving bare metal scratched where they hit the bed itself.
Strike 3. Rear passenger door only opens 2/3. (Found that the top hinge tab was bent....fixed that myself)
Strike 4. Right cab corner sticks out 1/4" from the door contour. (shit workmanship)

Strike 5. And finally as its getting colder I noticed the engine cranking over slower. Decided the batteries were old enough lets replace them. Lift the hood and find ONE BATTERY DISCONNETED

That one pushed me over the edge and resulted in a phone call back to them about the whole shooting match and their piss poor attention to detail. "What if instead of a battery you forgot to hook up an airbag from a collision repair?"

Guess its the way of the world now.