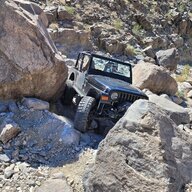 Joined

Mar 11, 2018
Messages

75
Location
The A/C in my Jeep works fine. Most places... But here in 29 palms the temperature is in the 108 or one hundred and teens on a daily basis and summer just got started.

I don't believe anyone makes a kit for it, but theoretically would it be possible to modify the system in some way to make it colder and blow harder? Maybe even route some flexible tube to the back to get the air to my kids?

What would it take? A larger blower motor? Modified hvac box and larger condenser?

The proposition even if possible would be most likely be too expensive and complex to follow through, but I found it to be an interesting question at least.

I had the doors and windows off for a bit, it was... Tolerable.