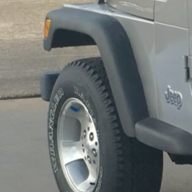 Joined

Nov 17, 2020
Messages

1,564
Location
I've always been interested in installing the factory sub and console in my 2002. I recently pulled out the required crossbody wiring harness and console from same model year donor Jeep.

The 2002 sub has a 6-way connector. I think the 2003+ has a 12 way connector with two differences being:

1. The remote turn on for 2002 is done with a remotely located choke/relay that is mounted under the dashboard vs the 2003+ seems to be built into the amp.

2. The 2002 amp only has two high level speaker inputs from the rear speakers and the 2003+ has speaker level inputs from all four speakers.

The console I bought is missing the sub but it has the amp. Amp looks to have four speakers wires for the sub so I'm assuming same dual voice coil as all the rest?

What would be the difference between having the two speaker inputs vs the four speakers?
Would fading the radio to the front speakers cause the sub to be quieter for 2002?
Would the dual voice coil replacement sub on quadratec work the same for 2002 vs all the rest?