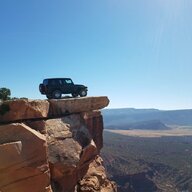 TJ Enthusiast
Supporting Member
Ride of the Month Winner
Joined

Feb 19, 2019
Messages

792
Location
Hey Gang. I just noticed this rather ugly reinforcement on my frame. This is an '05 LJR. The welds look pretty crappy but I don't see any reason why this would have been added after leaving the factory.
This is on outer side of the driver side frame rail above the lower CA mount. It wraps over the top of the frame as well. Nothing similar on passenger side
I'm surprised I never noticed this before. As far as I know, it's the only place where anything like this was done.
Is this on all LJRs or all TJs or is this a repair of some sort?