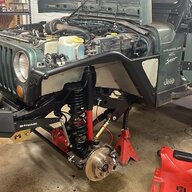 TJ Enthusiast
Supporting Member
Joined

Jan 24, 2023
Messages

204
Location
First Post. Build Thread. Typical me, go big or go home.
I'm going to do my best to get you guys caught up to where I am at today. I would call this a medium built Jeep. More than some, less than others. I have only been able to work with my own skillset, and that unfortunately does not include knowing how to weld. That is the single biggest thing that holds back my Jeep build.
I have owned this Jeep since 2009. When I purchased it, I thought it was mostly built already. It came with the following:
4" Spring lift from Tereflex with 1.25" body lift
Some aluminum wheels wrapped in 35" BFG All Terrains
6" flares (paint matched to body)
ARB front and rear bumpers (paint matched to body)
Old broken Warn Winch
Stock front dif
Rear Dana 35 w/manual ox locker
Sway Bar disconnects
Today, my Jeep doesn't have a single modification left on it from the original owner. Boy did I have a lot to learn...
My first Modification was pretty mild. Removed the side step w/plastic, and added a CB radio (obviously the most important mod haha)
After this photo (above), I did major build on the Jeep. I installed the following (in no particular order):
Ford 8.8 Rear Dif
Chromoly Shafts
4.88 Yukon gears
Four wheel disk brakes
SYE
Solid Dif covers front/rear
ARB air lockers front/rear
HP Dana 30 front Dif
31 Spline Chromoly Shafts
Locally build drive shafts
Atlas 4.3 twin stick transfer case with wrangler shifter relocators
ARB on board air
Home made front bumper
Home made rocker guards
Warn fuel tank skid
Rokman belly pan
xrc8 winch
Synthetic line
Hand throttle
Repainted the rear bumper to flat black
DIY Beadlocks
35 BFG KM2's
Synthetic oils
Cold air intake
Metalcloak front fenders
Relocated the blinkers into the grill (would have done this differently if I was offered a do-over)
That brought 'er to this look:
OK guys/gals, that brings you up to 2011. I got married in 2013 (since divorced), but the only thing I did to the Jeep before the marriage, was install a snow plow. Wow! Almost as big of a mistake as the marriage! lol I ran the Jeep with the plow for a few years before I sold the plow and kept the Jeep. The plow ate up my first Dana 30, and that is when I actually upgraded to the HP Dana 30. Of course, after a little miscommunication between myself and my friend that build my new front dif for me, I mistakenly ran it without oil and burned up the second Dana 30. Third time was the charm, and that HP Dana 30 is still in the rig today. I debate yearly about the merits of upgrading it. Literally.
Over the next ten years, I focused on my family and married life. Barely used the Jeep. Somewhere along the way, I found the driver side door hinges to be too corroded to shut properly and upgraded those (along with the windshield hinge of course). I installed a subwoofer along the way as well. That ended up getting stolen from the jeep.
That brings you current now to November/December of 2021. That, my friends is when I took my second big deep dive into my beloved Jeep. I will begin that story either tomorrow or in the days to come as I start to build this thread.
I've enjoyed reading this forum for a long time and have finally decided to give back. You guys have actually all helped me out over the years and you don't even know it. Thank you for that.