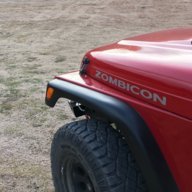 zombicon
Supporting Member
Well stupid me thought I had a rear main seal leak, and when I got in there, I thought man this all looks brand new. Sure enough it wasn't what was leaking. The transmission had so much grease on it I didn't take enough time to really diagnose the issue, which is a bummer for me, because I pride myself on that and flatbacking a rear main is my most hated job.
Well once I got it back together the next day I saw a drip on the ground, and I was not happy, but since I cleaned up all of the grease I could tell it was green. I had a freeze plug leak, so I removed the trans and decided to change the freeze plugs and the clutch and flywheel since I was there.
Tonight I got the old flywheel off and cleaned up the separator plate so much it looks brand new. I replaced the freeze plug and I removed the old pilot bearing and installed the new one. I removed the old Flywheel and installed the new one. When I went to put the new bolts on I noticed I had no Loctite. I mean I thought of everything. I have new fork new fork pivot everything, but now being stopped for shop supplies sucks. I guess I will now have to wait for the weekend. Anyways here is a picture of my new goodies going in on Saturday, or tomorrow night if I have any steam left.
BTW for those interested, I bought a Sachs clutch, and it came with a metal throw-out bearing and new clips. (not plastic)
Slightly more expensive than LUK, but if you buy a LUK, and buy a metal T/O it is cheaper to buy the SACHS and I am pretty sure that is what they used from the factory, but don't quote me on that. The flywheel is a LUK though. Wish I stocked Loctite.