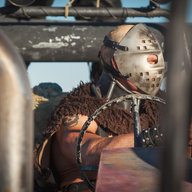 "The Ayatollah of rock and rolla"
Supporting Member
Joined

Apr 13, 2020
Messages

1,332
Location
I've been obsessing over overlanding rigs, campers, RV's and trailers for months. We like to travel and experience new places. After a recent trip to Hot Springs Arkansas with a few buddies I decided there is no way I am going to continue driving hours or more away with no spares, no trailer, and no help if we break the Jeep or have an accident. At the park in Hot Springs 3 of us drove our rigs. One TJ broke a rear driveshaft and luckily we found a friendly enthusiast with a spare we could buy. It was a 1330 shaft yoke though and the Jeep we needed to fix was 1310 yoke. After several trips to the auto parts store we found the bastard combo joint we needed and fixed the broke Jeep in the rain at almost midnight.
This trip and the breakdown spurred me into action. I was initially going to buy a small tandem axle trailer (16-18ft) to haul the jeep, and maybe a class C or A later. Running the numbers on storage, insurance, and maintenance for an RV it looks intimidating. RV's and campers are built so cheap and the quality is very poor overall. I know some big name RVs are a little better but even then there are no standards. While looking for trailers I stumbled upon the trailer below.
30ft, 12ft enclosed, 18ft open. Triple 5200# axles, insulated walls with a 50 amp service and roof ac. Just add furniture and cabinets. Maybe a porta potty and some upgrades later but it something i can build on. Upgraded aluminum skin, lighting everywhere too. For about the cost of a new pop up camper.
What do you guys think? I want to travel, and see some stuff in my Jeep. I just don't want to drive it there and risk being stranded with a pissed off wife he hates tent camping.
I put a deposit on it, and pick up next week. Was going to custom order one, but they are 4-5 months behind on building them.
<p>NEW 2021 OUTLAW 8.5' x 30' Hybrid enclosed trailer-WHITE .030 <br />Black powder coated trim <br />7' interior height <br />18' open wood deck(8) drings on deck <br />12' enclosed portion <br />Side exit ramps <br />3000# rear stabilizer jacks <br />3' x 3' generator plateform on tongue <br />(3)
www.outlawtrailers.net