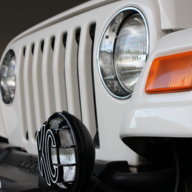 TJ Addict
Supporting Member
Holy!
What a beautiful LJ build.
This LJ has to be one of the top 3 LJ builds I have seen online. The attention to detail is amazing as seen in these pictures and this walk around video. I cant imagine seeing it in person. Id be drooling over it for hours like a creep.
Uses GenRight's "Tracer" suspension kit. The kit's name is derived from this suspension being a Trail Suspension designed from the winning GenRight 4500 Class Ultra4 Race Jeep. The
T
rail/
Racer
blend, hence the "Tracer" kit name.
GenRight's Tracer kit:
Stretches the wheelbase from 103" to 115" with Gen Right's 23 gallon fuel tank.
Increased up travel by 3.5", for lower overall ride height.
14" travel 2.5" Coil over shocks on each corner.
2" Air bumps on each corner.
Bind free 3 Link front suspension (plus a trac bar).
Triangulated 4 Link rear suspension.
Optimized Anit-squat.
GenRight CroMo hi-steer kit with 4340 billet machined twisted pitman arm.
Keeps steering box in factory location.
Hydro assist steering.
Heavy duty laser cut and formed parts for easy installation.
All Grade 8 hardware.
Designed for use with Currie Johnny Joints.
Smooth belly skid.
You're welcome.....
Last edited: