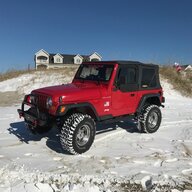 Joined

Mar 18, 2019
Messages

4
Location
(at least) two dead giveaways: in the very beginning there is a VIN decoder which references 2003. Then in the wiring diagrams there is mention of a compass in the mirror, which wasn't available in 97.

But unfortunately the biggest giveaway is that the whole thing looks like it was printed in 1966, whereas the other years looks like they were properly rendered. With all due respect to whoever did the actual 97, of course. It's invaluable and I'm glad to have it in any form.
I also noticed, since I was looking up the HVAC system, that the controls have the round dials. My TJ has the "sliders" instead. I believe that changed in 2000 models. So which file is the correct one for the 97?
Thank you.