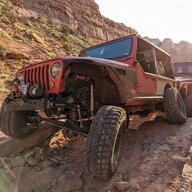 LJR Junkie
Supporting Member
I don't think this is as pronounced of an issue as many think.

My LED headlights definitely generate heat, no question about it. It's not as much heat as a halogen, but it's definitely there, and all you need to do is put your hand against the lens to feel it.

The new Jeep Wrangler JKs and JLs come with LED headlight options from the factory, and none of them have heated lenses. I believe this is due to the fact that the engineers know that they do generate heat indeed. If they didn't, why would the LED housings have huge heat sinks on the back side of them?

Anyways, it's not going to be a hot as a halogen like I said, but there is definitely heat there, no question about it.
Thanks Chris! I may just bite the bullet after we move. Fortunately the risk in the <$100-$150 options is fairly low.