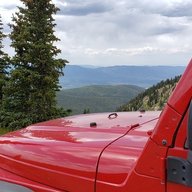 Joined

Sep 3, 2019
Messages

4
Location
Hello everyone!
I'd like to add my name to the ranks of new Colorado Jeep wheelers. I've driven Wranglers, specifically 2 TJs, for most of my life, and now it's time I started enjoying them off road. My current '03 came to me pretty well built, with 33s and a lift, so at this point I'm really just playing catch up! This forum has helped me a great deal with that, especially in the equipment and how-to sections. I don't consider myself all that mechanically minded, but every time I poke around here and then crawl under the Jeep it seems like I learn something new.
I've been able to start with Rollins Pass from the West side, which was a blast of a starter trail (and also taught me the pros of airing down...). More recently were Black Bear and Imogene Passes, both of which were nothing short of amazing. I can't wait to get back to that side of the state and hit Engineer and Ophir, then the other side of Rollins, etc, etc... the ever growing list! Time will tell what I can and can't squeeze in before the snow takes over.
Anyhow here's the star of the show, up on top of Black Bear, just before starting the switchbacks.