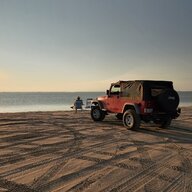 My floorboards are full of beach sand
Supporting Member
Joined

Oct 27, 2022
Messages

8
Hello ,
Butch here, and I've rediscovered how fun my Jeep is to own after refreshing a few things this Summer (brakes, tires shocks, A/C, etc.) I became a work from home person when the world ended in March 2020 and the Jeep started rotting away due to the lack of using it to go anywhere.
Amazing how fast that happens.
Until then it was my daily driver and the subject of many conversations with strangers. I've had three people come to my door to ask if I would sell it. Now, it lives down at my place in Galveston and often the first thing I do when we get there for the weekend is get it out of the garage and hit the beach - even if it is dark!
Here he is ...
I might do something about the faded fender flares, but then again, maybe not. They faded so evenly; it looks like it was done like that on purpose.