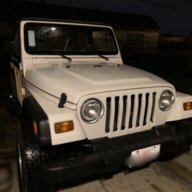 TJ Addict
Supporting Member
Joined

Jan 5, 2019
Messages

1,722
Location
Hey guys. Just wanted to drop in and say I am still around. I just haven't been on here much lately. After working part time for 33 years, I finally got full time. I am working all night shift 11pm-7.30am so I have been trying to adjust. So far I am liking the hours. Just kind of sucks that I go to bed before hubby gets home from work, and then he leaves for work before I get home. We see each other for about 10 minutes as I get ready for work. LOL He does come home early from time to time though. If all else fails, I do have the option of changing the hours, but for now I am going to keep things like they are.
Also, because of the full time and making a little more money, I decided to get a vehicle to pull our Scamp with that I would drive. (hubby pulled it with his Van and I don't like to drive it) I figure with full time I can retire in about 6 years so might as well get something a bit newer. We bought a 2017 Ford F150 4x4. It's nothing special, just has the 6 cyl. but it will pull the Scamp just fine. It is like brand new too. Even smells new inside.
I've been driving it ever since we bought it. LOL Have to get the "new to me" out. LOL Once I do that I will go back to the Jeep and Mini.
Maybe. LOL
Before we bought the truck, I did put my Jeep into "summer" mode. Took the back windows out.
I do need to go back to winter mode here soon though.
Anyway, I will try to check in more often now that I am somewhat getting adjusted to the full time thing.