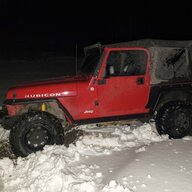 Joined

Sep 24, 2020
Messages

1,626
I sell all brands and don't have a vested interest in any particular brand.

That said...which one between your two mentioned?

N
E
I
T
H
E
R

The Patagonia MT is possibly the worst MT ever made.
The center bead is bad enough but then you add a crown profile to it as well...
Absolutely positively a terrible design. I honestly believe there was a meeting in the back of a short bus with crayons and they came up with those Patagonia thing ma jings.

Kunati is a complete copy cat of other brands made in Indonesia. The Mud Hog is a copy of the Original Goodyear MTR...
The Trail Hog is a copy of Duratracs.
Perhaps not identical but damn close enough it's really obvious what they're trying to do.
We've sold retread tires with an MTR direct copy recapped in the United States I'd recommend before these tires.

One thing I can tell you with off road tires...
Reputation means a lot.
Mickey Thompson...
Goodyear
Super Swamper
BFGoodrich

They wear better, perform better and honestly at the end of the day you don't save shit. Cheaper up front but being dissatisfied is worth what?

Perhaps you don't care and maybe your Jeep sees 2k miles per year and an occasional mud puddle but if it's any driving of normal mileage and real off roading I'd seriously consider one of the above brands I mentioned. You aren't just paying for a name...and they are worth far more than that 40-50 bucks per tire savings today in about 18-24 months. Mark my words.

It's your money though...