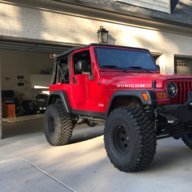 Joined

Jul 9, 2017
Messages

49
Location
I'm honestly not very mechanically inclined, and part of the reason that I bought my TJ was to learn how to work on it. With all of the forum info and youtube videos, plus how relatively easy they are supposed to be to work on, I thought it would be a great place to start.
Ever since I bought my Jeep a few weeks ago I've noticed that there's some hesitation under certain acceleration conditions. A little research revealed that it could be related to the spark plugs.
Watched the video at
and everything seemed straightforward. So...figured this would be a great place to start learning how to self-service my Jeep.
Went to the dealer, bought the OEM recommended plugs and followed the steps in the video....but made a critical mistake. I assumed that the gaps in the plugs would be spot on given that they were brand new and no damage to the boxes so I skipped the part where I was supposed to confirm the proper gap.
After completing the job, the acceleration was improved and all was well for about 20 minutes when I noticed a little jumpiness in the lower RPM range. Then....check engine light. S**t.
I knew it was related to the plugs so I went back and retorqued everything. Problem was still there.
Brought it to my local Firestone (not a huge fan of this place but it's really close and I've used them before so they know me) this morning to have the code read and problem diagnosed.
Long story short...the gap in the plug in cylinder 5 was incorrect. I KNEW I should have bought the little disc to measure it, but I ASSUMED that it was good to go (which we all know what can happen when you assume...).
So. Key lesson learned: follow ALL of the steps outlined when working on things on my Jeep....and assume nothing.
By the way, I'm uploading a pic of the old plugs. Thinking they're the originals. And yes, I snapped 3 of them which sucked until I realized it wasn't a huge deal. But I definitely was super careful with the new plugs when I put them in.