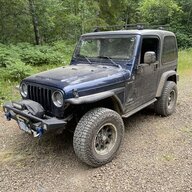 Joined

Apr 5, 2021
Messages

22
Location
I've read many posts here about kill switches (I don't have a SKIM key) and I'm focussing on one option. Keeping it simple, I'm planning to remove a fuse and replace it with a two wire breakout, a switch, and an inline fuse with the switch hidden in the cab. I'd prefer to use a fuse located inside the cab fuse box (behind the glove box) for ease of installation, and if the switch/wiring fail, I can just replace the fuse breakout with a standard fuse, no wire hunting on the trail.

Given this, I've decided to use the following fuse for the kill switch on my '05 TJ I6 Manual:
Fuse #12, 10 Amp:
Fuse Functions: Sentry Key Immobilizer Module, Fuel Pump Relay, Automatic Shut Down Relay, Powertrain Control Module, Oxygen Sensor Downstream Heater Relay, Oxygen Sensor Upstream Heater Relay

I'm looking for any comments on this fuse choice and any problems that may arise. Any and all suggestions would be very much appreciated. Thanks.