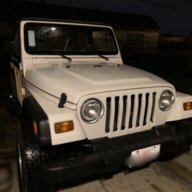 TJ Enthusiast
Supporting Member
When I get a vehicle I really like, I like to start build threads on them. It's really nice to be able to go back later down the road and see how far it has come. So here is my build thread for my 1999 Jeep Wrangler Sport. It will be a slow thread for a while as I kind of spent more then I should have on getting the actual Jeep. LOL I used my Liberty as a trade in, but I saved all the accessories that I had put on it, and will be trying to put some of that stuff on the Wrangler. Basically a bull bar and a LED light bar. The other stuff won't fit. Will probably sell that one day.
Here are some pics of it when I got it.
This is the night I drove it home. Pouring down rain and the windshield wipers were falling apart. Made for an interesting first drive. (well second drive since I did test drive it. LOL)
Interior.
Here are some pics from the next day after getting it. Rainy weather so not the greatest shots.
Here's my first "fix". LOL There was a gap in the top so I did what any girl would do.
Fixed it with a clothes pin. LOL It held up going to work and back today. LOL
I had to go buy some extra storage devices. Coming from the Liberty, there was just not enough storage in the Wrangler. ( I have since learned I can get a center console. I will be doing that asap.)
Yes, my favorite color is purple, and my Mom thought I should have some purple critters for my Liberty. (It was blue with purple everything. LOL) I moved the critters over the Wrangler and it will eventually get purple accents too.
The windows had some rips, so I fixed them with clear flex tape. Wish I would have went with the black. Oh well, I will eventually replace them anyway.
Then lastly, for now, it got it's first sticker today.
I love having a vinyl cutter. Can make things as I feel the urge!
I will update this thread as I do things to the Jeep. It may be slow for a bit do to funds and weather. I'm not one for wanting to work in the cold, even though Sacramento CA isn't cold to some, it is to me at times. LOL Thanks for looking.