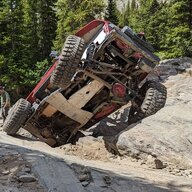 Megajeep!
Supporting Member
Ride of the Month Winner
Joined

May 23, 2018
Messages

6,787
Location
Just like it sounds--beauty parlor talk, gossip, yakking away, babbling, whatever you prefer. The purpose is for us CO members to have a place to chit chat. Anything exciting?

I've got a few projects coming down the pipeline. New gunmetal color wheels, outboarding the rear (waiting til Friday to purchase foxes), and on the brink of hitting "buy now" for new ranchos in the front along with spicer ball joints and axle seals for the HP30.