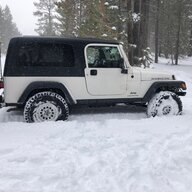 Joined

Dec 21, 2022
Messages

75
Location
Ok, I have a question for anyone with experience. While driving home late last Sunday night, in a fairly heavy snowstorm, I experienced a new problem.

The led lights I selected for my Jeep have been nothing short of excellent, until this storm. Remote highway, very dark, no street lighting. Totally headlight dependent. The damp snow built up so thick on the lenses, they were no longer extremely bright and highly directed. The light was dim and so diffuse it was actually lighting up the wall of snow falling in front of the grille. Could hardly see the road. I had to stop about every mile or two, get out, and wipe off the snow. They would work perfectly until another 1/2-1" of snow built up again. Suggestions from friends ranged from RainX to Pam cooking spray.

Short of heated lights for one or two episodes a year, has anyone found an easy solution to this sort of thing?