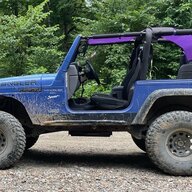 Can't type
Lifetime Supporting Member
Joined

Oct 18, 2020
Messages

2,555
Location
Looking at getting a new vehicle, needs to check several boxes if possible. It'll be my "daily driver" for driving across the metroplex for softball tournaments, buying jeep parts in south Dallas, etc. And my wife will be driving it, so it needs to ride nice, which currently my JKU does not qualify LOL. And neither do the TJs. I have 5 kids, so having a 3rd row would be ideal, which precludes any sort of pickup truck, which I don't really want anyway. I've found some options, mainly in the Toyota/Lexus family, but I need help understanding towing capacity.
But let's start from the back end. The desire is to trailer my 97 TJ to the trails. I don't have a trailer myself, but obviously I can rent one for the handful of times a year I would need it. I don't have a place to store one so buying is out. And I have a friend with one that I could borrow in a pinch. The U-haul car hauler weighs 2210lbs. Looks like the TJ weighs close to 3300lbs. I have aftermarket bumpers & sliders, which adds an additional 190lbs. So call it 3500lbs, or 5700lbs in total.
Using the 2011 Sequoia as a working example, the 4.6L V8 4WD states it has a towing capacity of 6800lbs, so before doing anything else, it would appear that I'm 1100lbs (almost 20% under max). Having exactly zero experience towing, I don't yet understand curb weight GVWR tongue weight (actually I do understand that one) etc, but this chart would suggest that I'm good to go at 6800lb capacity even with 1200lbs of cargo in the towing vehicle.
In situations where I would be towing, I would likely only have me in the car, or me & maybe 2 kids. I carry some tools & parts when we go, but I would still be well under that 1200lb figure listed in the vehicle weight. So I say all this with the understanding that based on stuff I've read here, the numbers get more complicated in ways I don't understand yet.
This is where you educate me.