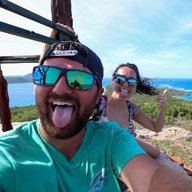 Joined

Jan 30, 2020
Messages

26
Location
Hello everyone. First off if this is the wrong area to post I apologize. Anyways !

So back in May of last year I convinced my parents neighbors to sell me their 04 TJ. They are an old couple and had this thing sitting in their garage and had driven it every now and then for the last 4 years. Once I got it the tires that were on it were cheapos and just honestly were not safe. The slightest rain and wet roads and I'd be sliding all over the place with just a little bit of braking. So o went out and purchased a set of 31" KO2s and love them. My question is I'd like to lift it s little bit mainly for a better look. I do not do any serious off roading. If anything it'll be on the beach in sand and what not. I just really want to bring the front up and hopefully stop the scrubbing as well.

Can anyone reccomend a lift? I am personally not a fan of a big tall loft with undersized tires so would like to stay in the 1-1.5 inch ? Not sure how a 2 inch would look with 31s. I will be changing the wheels to something with more aggressive backapacing soon if that matters at all.

Pics would definitely help too! Thanks everyone!