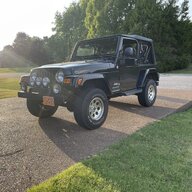 TJ Enthusiast
Supporting Member
Joined

Feb 2, 2021
Messages

122
Location
After 6 months of 7" lift/35" MT hell, I've downsized to a 33" AT Ko2 and have removed 3" body lift. Progress!
During the BL removal, the local off-road shop indicated that the front axle bushing was spent and that the transfer case was disconnected when they pulled the lift. They reconnected the transfer case cable and shared that because the front axle bushing was worn, it could be worth draining the fluid to determine whether work needed to done to the axle, driveshaft and gears. I believe them because the Jeep has spent a large portion of its life sitting and there seems to be a lot of play/flex in the front end when shifting.
Let me couch all of this with 1) this is my first Jeep, 2) it's 23 years old, 3) it was running 35/12.50/15's and 7" of total lift on what appears to be stock axles as far as I can tell (not to mention it's a 2.5L), and finally 4) I have probably botched the synopsis they provided me but I am hoping you experts can decipher.
I bought this in January with 80,000 miles and zero rust and it's been a decent daily around town after I replaced the cooling system and got it running. At this point I'm in it for $11,700 total and I'm at a point where I'm wondering how much more needs to be plugged into it to make it a reasonable highway driver.
So ultimate question: for a primarily road-running Jeep, what's the right play here? I don't plan on working with the off-road shop either way (I don't need 4wd and I'm not interested in reinforcing stock setup), but I'm wondering if it's better to have my mechanic repair the stock front-end or source reman parts?
Also, gratuitous before/after shots of the setup pre- and post-body lift removal. (And the Rubi stickers have been there since I bought it. Not coming off until if/when it's repainted or wrapped)