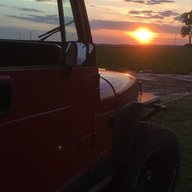 Joined

Jul 12, 2019
Messages

6
Location
Hi to all you great guys on the forum! I just upgraded from a 93 yj to a 06 tj.
I want a lift maybe 2-3 inches. It will be a daily driver for now and light offroading weekend warrior. I am wondering what lift to go with to run 33 12.5s? Either a 3 inch with stock fenders or would a 2 inch with tube/flat fenders work. Im wondering how much flex room the 2in. lift with tube fenders would give me? how much extra room do u get if any with getting tube fenders? I dont need TONS of flex because there arent just a lot of trails/rocks here in MS. I also want to keep it as highway friendly as possible.
I know its a jeep and that isnt terribly easy and that is totaly fine but you all know what I mean.
Also what happy medium lift would you get,i.e. what brand? for a 2 inch lift do i need to drop my transfer case? for a 3 I for sure will right?
Just some questions I have. Lets hear your thoughts and what works for you all. Already got some great info and I know ill get some more! thanks!