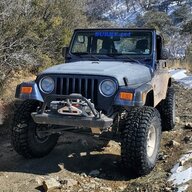 Hell Yeah Brother! I Loves Me Some Arizona.
Supporting Member
Joined

Mar 15, 2020
Messages

4,005
Greg and I were chatting earlier on a possible Sunday ride. New river, Montana mountain or box canyon florence are all pretty tame and super scenic. I know he did box canyon already yesterday.

Would love smiley rock but that probably doesn't fit the bill here
New River to Seven Springs we could do again.
What area were you thinking

@RINC

? I've been itching to get out. I've only been out around the Tucson area.

Edit..Montana Mountain would be sweet as would the others. They've all been on my list.
Us Phoenix area peeps need to run some Tucson area trails.
I can do Montana Mnt. again also.