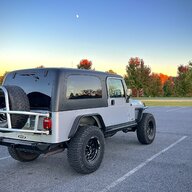 Joined

Aug 2, 2021
Messages

6
Location
Jeeps are rad. I followed other hobbies for a while, but I found my way back along with a dream LJ in the summer of '21. I flew across the country to LA, road-tripped it back to Baltimore, and here I am catching myself up on what I've done with the time since then—and where we're going. The plan, roughly, is to keep everything as stock as possible and upgrade with future-proof and high quality stuff for a renaissance-man-of-a-rig meant for camping, wheeling, goin skiing, built in two phases:
Armor, disconnects, hardtop, interior/sound, seats, lighting/electrical, maintenance, use it.
Axle swap, longarms, coilover front / spring & shock rear, and 38" on beadlocks ... and use it.
V8?
As found in the California desert in the summer of 2021: rust-free with only 97k miles and stock.
Made it back home in one piece, and a check engine light (huzzah)! All cleaned up.
History: I've been a Jeep guy since high school with an '85 XJ with the 2.8L GM V6 and AW-4 automatic ... she didn't go fast, or sometimes go at all, but we always got up to the mountain in the snow, so I never looked back. I drove around a '99 deep amethyst pearlcoat TJ Sport with the 4.0L and five-speed after the XJ, lifted on 33s. I sold that for a '12 JK Rubicon, lifted it on 37s. Sold that one for a house. Shouldn't have. I putted around in an A4 Avant and Mazda3 for a while, messed around with motorcycles—Buell XB9R/1125CR, Yamaha FJ-09, Aprilia Tuono V4—for a bit, but now I'm back into taking life in slower.
Before I landed on the LJ, I was thinking about getting into older Land Cruisers, and the TJs and newer two-door JKs are too small to comfortably travel in for me with my partner and three dogs in tow. The hunt for LJs in good condition was getting harder and harder, so pressure to find a rust-free example was going u
: it didn't matter how far away it was or what trim since the plan is to make it a Rubi killer anyway.
As she currently sits (fall 2023) - stock suspension other than JKS disconnects, armored up, and 33s:
Phase 1 - as of fall 2023, we're currently here:
keep the suspension completely stock, armor up, and use it. Complete the supporting mods needed for the next phase, which focuses on the suspension.
Drivetrain:

Stock 4.0L inline six (other than the intake needed due to flat fenders)
NSG370 6-speed manual transmission
NV231 transfer case
Dana 30/Dana 44 axles, open, 3.73 gearing

Armor:

GenRight aluminum 4" flat fenders, corners, steel mini-boat side rockers - [done]
GenRight aluminum swing-out tire carrier - [done]
Motobilt steel bumpers front and rear with Warn winch -

[done]

Tires:

33" TreadWright Guard Dog MT on Rough Country 16" steelies until Phase 2 -

[done]

Electrical:

Custom J-Pod aux. power module with switch panel -

[done]

Interior:

Corbeau seats, heated with adj. lumbar support -

[done]

Remove rear seat and build out for dogs and camping storage -

[done]

Sound system with CarPlay and rear camera -

[done, except for rear cam]

Sound deaden tub and hard top [still planning]

Lighting:

Truck-Lite heated LED headlights

[done]

Baja Designs aux. lighting: amber Squadron SAE fogs, amber LP4 combos, white S1 scene backup lights, rock lights of some sort - [in progress]
Phase 2 - planned for summer 2024:
axles swapped from a JK Rubicon with a custom long arm suspension and steering to support 38" tires.
Axle swap: JK Rubicon D44s front and rear

Artec trusses, brackets, and towers

PSC hydro-assist steering
Rock Krawler 4.5" long arm system with coilovers up front, coil & shock in the rear
38" Milestar Patagonia M/T-02s
Gas tank of some sort (more range)
Looks like I've got some catching up to do on the build! Stay tuned.
Last edited: