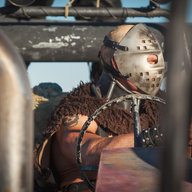 "The Ayatollah of rock and rolla"
Supporting Member
Joined

Apr 13, 2020
Messages

1,797
Location
Long term build thread on my 2005 LJR. Currently on Dana 44's with 37" BFG Krawlers. Finding myself wanting to run tougher trails than the 44's and 37's can swing. This Jeep is 99% trail driven but will still be fine for a drive around town. No more highway runs if I go with sticky tires though.
The plan...
Build the axles, collect all the parts, and start building end of next season (Nov 2022-ish). Have it completed for a shake down Feb/Mar 2023.
Axles:
Front axle
Superduty Dana 60 Front 2005+ variety
5.38 Yukon Gears
Detroit full case locker
Barnes Truss
Ball joint eliminators
Motobilt cover
Full rebuild including all new brakes
Rear axle
GM 14 bolt (2003 SRW)
5.38 Yukon Gears
Full spool
Barnes Truss
Motobilt cover with 13 bolt shave
Full rebuild including all new brakes
Suspension:
Front: 3 link with 14" ORI and Antirock
Rear: Double triangulated 4 link with 14" ORI and Antirock if I can find a place to mount it
Front stretch 4-5" using Genright twisted pitman and relocated track bar mount
Rear stretch based on tire size I select. Might go up to 8" back
Possible highline or modification to existing fenders
Flat belly skid, or close to it
Basically everything from the frame down is being replaced.
Here is the Jeep as it sits today along with my buddies 4BT swapped YJ on 42's and his wife's LS swapped YJ on 35's. We are building axles for her Jeep also. Its getting linked on 42's as well. My buddy is helping me with the build, I am pitching in and helping with his. Lots of work to do on all 3 Jeeps.
Total poser shot, but all I could find with a three Jeeps in my photos.
Last edited: