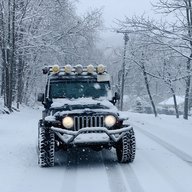 Joined

Aug 20, 2018
Messages

294
Location
Hey all, started the Jeep cold this morning no issue. Only thing is that i'm the first 20 seconds the idle will dip down briefly for a second or two then go back up.
I went to start it at work again about 4 hours later and it had this really long crank before it started.
I already replaced the entire fuel pump assembly within the last 6-7 months, including the pressure regulator. I replaced all this because of having a long crank, as well as a totally inaccurate fuel gauge.
Haven't checked the IAC or throttle body yet because I didn't have a long enough torx to fit in there. The Jeep has a decent list of dealer maintenance and I'm not sure if it's already been done or not.
Spark plugs were done around 115k, I just rolled over 140k.
Should I start with the IAC? Planning on doing a tune up and all that stuff this weekend anyway.
Thanks.